Staff Movement Chart - End User Guide


Introduction

Staff Movement chart is a solution that can runs independently or integrate with Leave Application Software.
It allows simple adding and removing of events.

As we are trying to keep the software simple to use, thus we don't have complex login feature and user control.
In other words, it is a place for collaboration without complex access control, so try not to delete records that don't belongs to you.


---

How to use

Access to the Server Portal using the URL given ... eg http://webmail.amc.com.sg
-> Click on Staff Movement on the left, and ...
-> Click on Month View on the Staff Movement Chart Menu to view the Chart
-> You will be prompted for a password. You may get the UserID and Password from your office's HR Manager

Note : There are Add New Entry and Delete Entry for you to administrate the chart too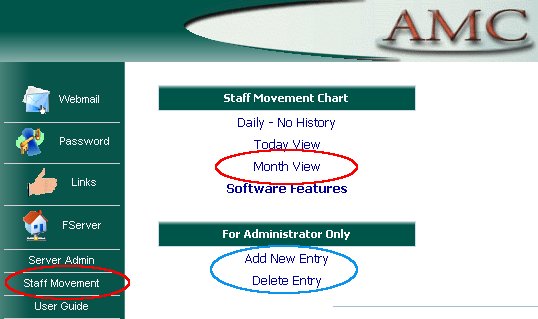 ---

Upon clicking the Month View, you will see this ...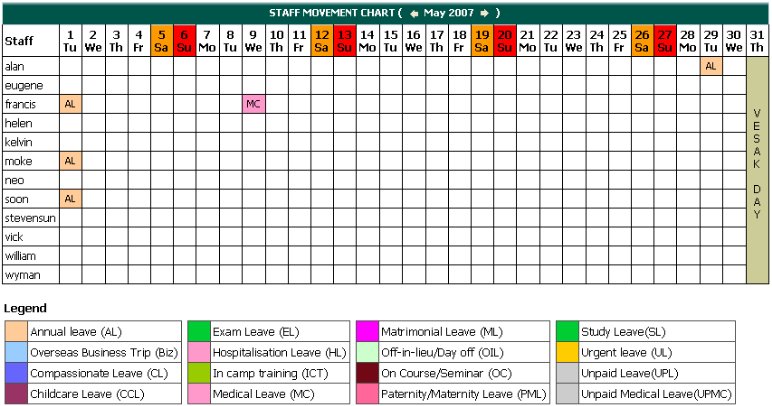 ---

Add A New Entry

-> Select your name
-> Select a starting date and ending date using the calendar icon.
-> Give a comment for your event in the remark section
-> Click update to complete


---

Global Event for Holiday or Company Event

-> Complete the detail as usual
-> Select [Global Event] for both Staff and Type
-> Click update to complete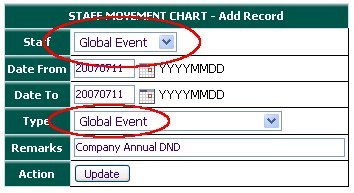 This is what you will get after the update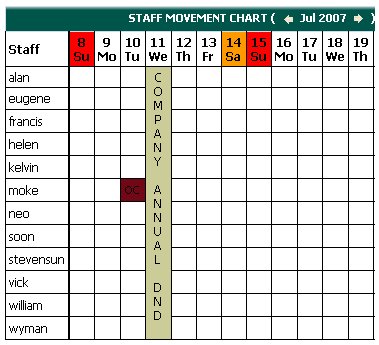 ---

Viewing different month

Do note the two arrow, use them to move up or down between different months



---

And ... Thanks for supporting this Staff Movement Software ... :-) ...
Moke ...




---
Copyright 2009 by AMC. All Rights Reserved.
EndUserGuide_StaffMovement.html (Moke) Version 20090324