Leave Application Software - End User Guide


Introduction

This Leave Application Software allows you to apply your leave electronically through the web.
Staff's Leave Records will be managed digitally and at the begining of every month,
a report of your Leave Transactions and Leave Balance will be sent right into your email inbox.


---

How to use

Access to the Server Portal using the URL given ... eg http://webmail.amc.com.sg
-> Click on Leave Application on the left, and ...
-> Click on Leave Application on the Leave Application Menu again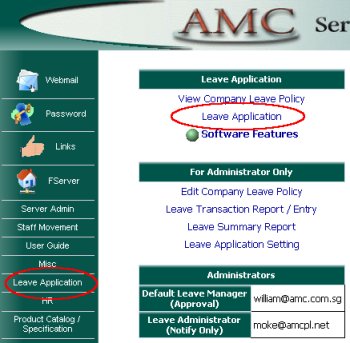 You may view your company leave policy within this page too.


---

-> Select your UserID based on your email account id
-> Fill up the form accordingly, and ...
-> Click [Submit]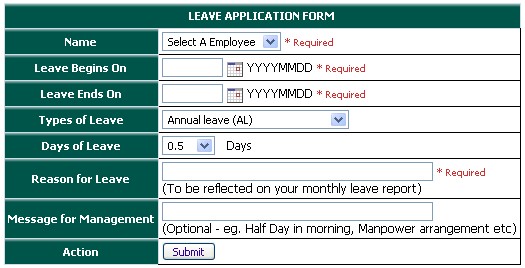 ---

Upon submission, you will see a message box together with your Leave Manager's email address.
Once your leave application has been approved or rejected by your Leave Manager,
you will receive a notification on the application status.



---

At the begining of each month, you will receive this report in your email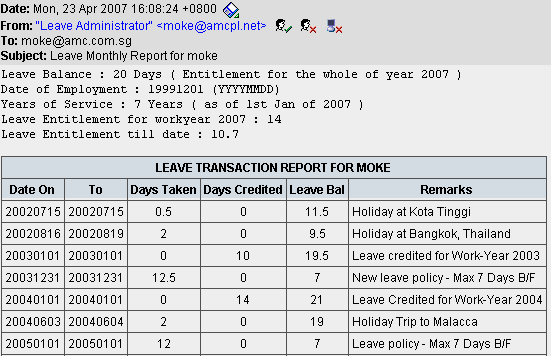 ---

And lastly ... Thanks for supporting this Leave Application Software ... :-) ...
Moke ...




---
Copyright 2009 by AMC. All Rights Reserved.
EndUserGuide_LeaveApplication.html (Moke) Version 20090324