User Guide - How to filter Spam
By Moke (moke@amcpl.net) - 20061107
Introduction
AMC's server is equipped with a mail filter that uses a wide range of heuristic algorithms on email headers and message bodies to identify "SPAM" (unsolicited email). Each message is given a score based on the number of tests which are positive. The score given will be hidden within the email header for your mail-client to decide to filter or not.
How to create client-side filters
Webmail
Nothing need to be done as the server will take care of it. Just check your SPAM folder occassionally.

Outlook Express
Outlook Express does not allow you to create filters that match on custom headers. Thus can't make use of the feature. You may want to try migrating to Thunderbird.

Thuderbird

Click Tools
Click Message Filters
Click New
Type a name for the filter
Select customize under the header selection menu
Enter X-Spam-Score and click OK
Enter the desired number of asterisks (e.g. ****) in the form next to contains ( Recommended 5 * )
Select the desired action to perform on messages that match this criteria

Outlook 2002/2003

Click Tools
Click [Rules and Alerts] or [Rules Wizard]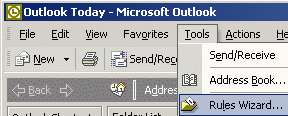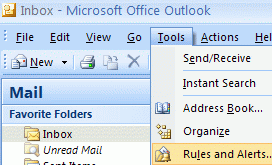 Click New...


Select Start from a blank rule
Select Check messages when they arrive and click Next


Check "with specific words in the message header"
Click "specific words" in the Rules Description section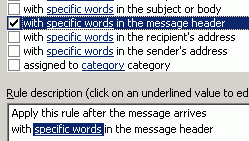 Type X-Spam-Level: ****and click Add (vary the number of asterisks depending on your desired spam level)
Add more conditions as you see fit and then click Add
Personally, I will recommendation 5, you may want to try 4 or 3 to lesser spam mail


Click ok then click Next on the next screen

Check [move it to the specified folder]
Click [specified] in the Rules Description section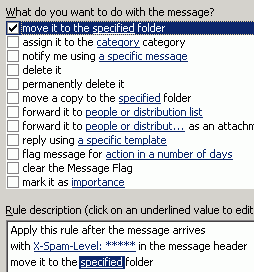 Create a new folder call [Junk E-mail] if it does not exist
Select [Junk E-mail] folder and Click Ok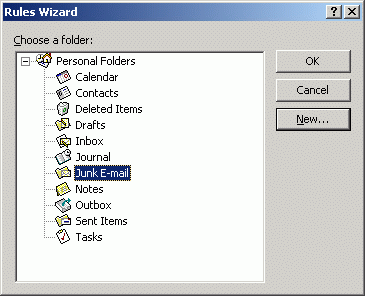 Click Finish